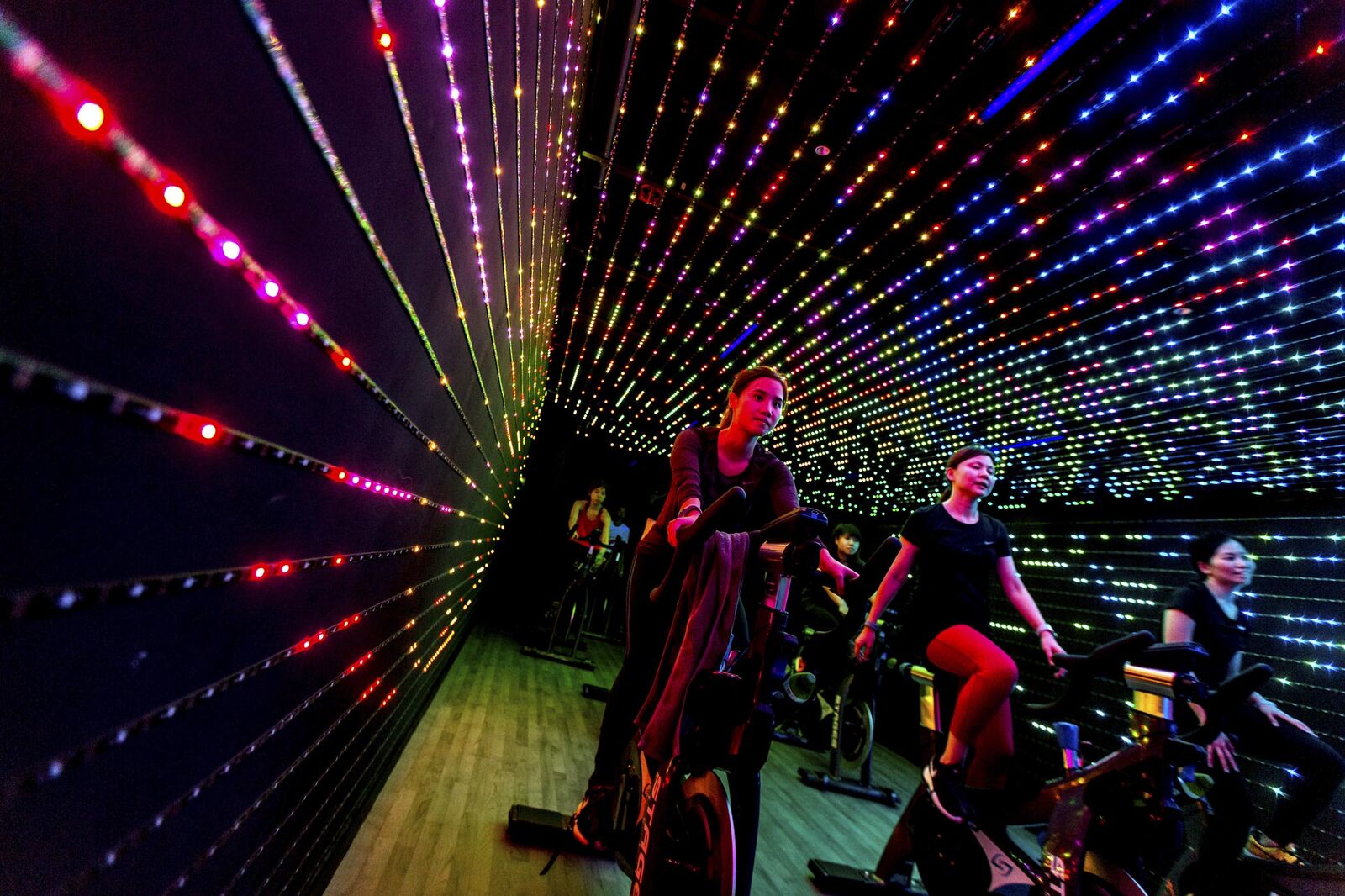 By the most optimistic of guesses, only about 30 percent of New Year's resolutions to get healthy will succeed. And yet the global fitness industry has been filling classrooms more than ever, inventing creative, intense workouts that draw users over and over again. Look at Orangetheory Fitness, with its 600,000 members worldwide, or Peloton Interactive Inc., which has 1 million. CrossFit has quadrupled its gyms, to almost 14,000 since 2012, and Barry's Bootcamp gets 900,000 hardy souls in its studios every week. The fitness-booking MindBody app processes 5.5 million classes every day.
What have those people got that you ain't got?
Time isn't an excuse. Studios now offer half-hour classes, often with more intensity and fewer breaks—think of Mile High Run Club's Dirty 30 treadmill class or the fast-paced Four30 at Project by Equinox. "We are definitely seeing a trend toward shorter workouts," says Jordan Metzl, a sports medicine physician at the Hospital for Special Surgery in New York, who adds that short classes can be a fun way to test something new.
But according to Metzl, the best way to stick with a workout is to find a place where you feel you belong. "Having fun and being part of a community are the most important factors," he says. In a July survey for MindBody, almost 60 percent of exercisers said ­working out with a friend or partner helps them stay motivated.
"High-pressure cities can be unforgiving and lonely," says Luke Milton, a transplanted Australian who founded Training Mate, a gym that hosts one of the most consistently booked workouts in Los Angeles. "The whole point is to create a family within the four walls." (Or sometimes outside.)
A year ago, Reese Scott started Women's World of Boxing, the first female-owned boxing gym in New York and, according to ClassPass, the most popular workout in Manhattan on its app. "This is truly a female fight house," she says. "I built this place, and you know who's in your own house. I know everyone's name, and immediately we realize we're all in this together."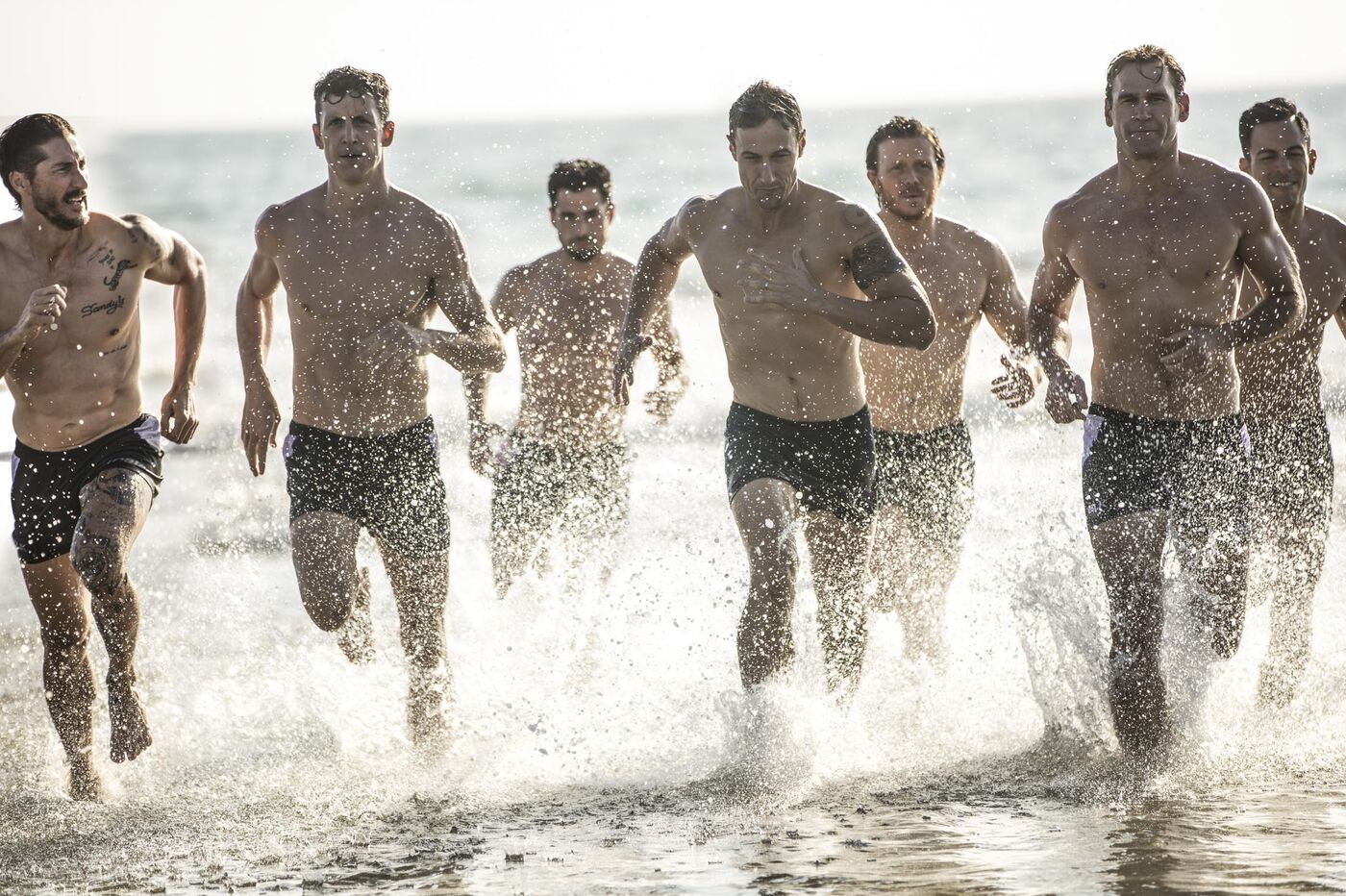 GREATEST HIITS
Training Mate
With 4,000 workouts in its database, you'll be hard-pressed to do the same routine twice. The most popular class among its three Los Angeles locations is the Sydney Circuit, a 45-minute all-body workout that focuses on three stations (rowing machines, resistance bands, bikes) with three exercises each, for 45 seconds on and 15 seconds of rest in between. But the biggest draw is a friendliness that's reflected in the studio's name. "We focus on that word, 'mate-ship,' " says Aussie founder Luke Milton, a former pro rugby player. "People ask if I miss rugby. But what I really missed was the camaraderie." He's planning to open locations in New York and San Francisco by the end of the year. $130 for five classes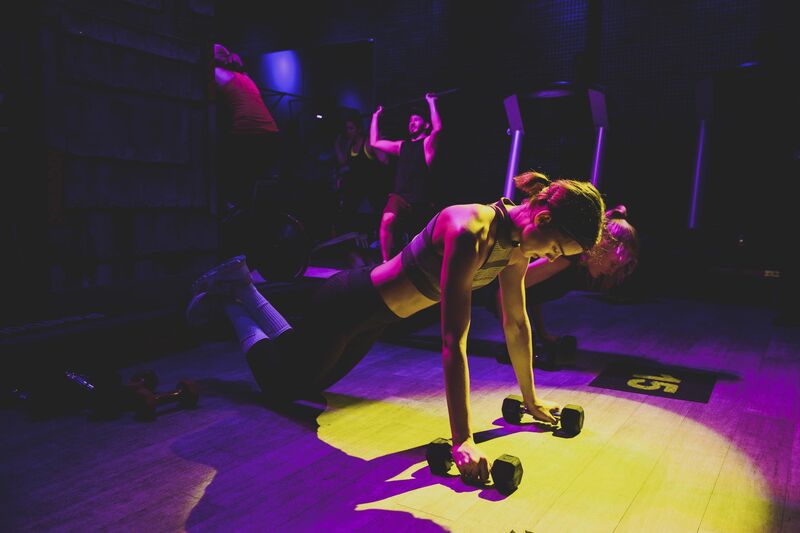 Switch Playground
Started by fitness guru Steve Uria in Cape Town, Switch Playground has four locations in South Africa and two in New York, and it's looking to expand in Los Angeles and London. It follows the high-intensity interval training method, with one instructor upfront leading the class and 4 to 10 trainers on the floor teaching moves. The live DJ helps, too. Switch Playground's class includes 20 challenges in the 60-minute workout (for example, a kettlebell clean jerk and press, then a jump lunge). Another selling point: Participants are paired to challenge each other. "We've had people get married who met on our playground," Uria says. $150 for five classes
Midtown Studio
Even Paris is wooing fitness junkies: Witness the surging popularity of spin-style classes at Dynamo and Let's Ride. The trendiest workout, however, is in the darkened rooms at Midtown Studio, the first urban boot camp in the City of Love. (Its two locations are in the 1st and 16th arrondissements.) The 45- to 60-minute sessions are intense, using weights, running machines, and ropes. Class sizes are limited to 10 participants and give off an intimate, chummy vibe. €140 ($158) for five classes
F45
Merging three trendy training styles—HIIT, circuit, and functional training—F45 is one of the fastest-growing gyms anywhere: By the end of this year, it'll have 1,500 franchises across 36 countries. There are more than 30 different 45-minute classes, and instead of a barking instructor upfront, screens illustrate the workouts while specialized trainers are on hand to help out. $349 for unlimited monthly classes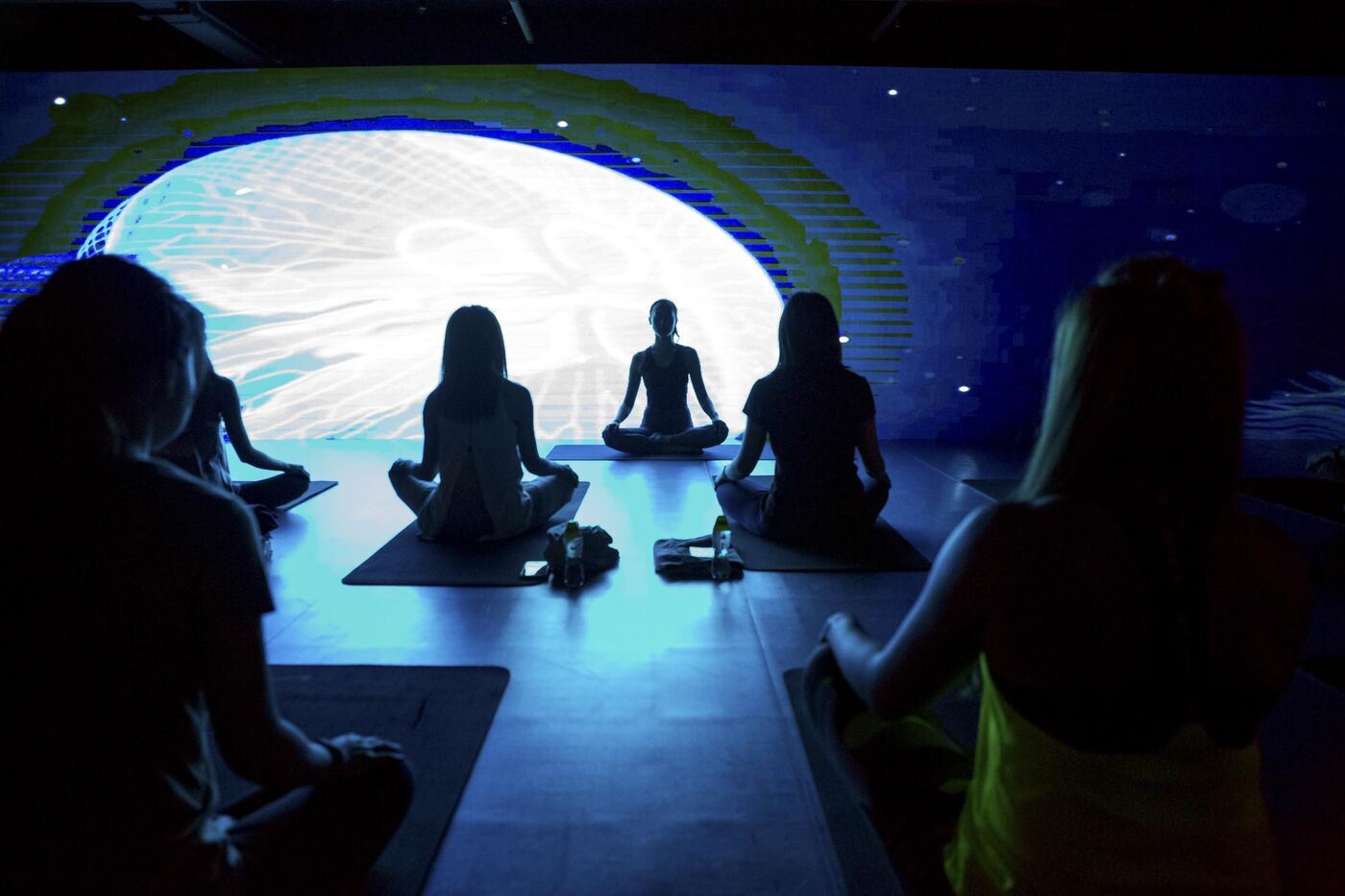 USE A SPORT TO MAKE IT FUN
Cycle in 4D in Hong Kong
Workouts at 4Ward Fitness, a "Korean-style" gym in the bustling Mong Kok district, feel more like being inside a video game. In the 4D Spinning class, participants watch their progress on a massive screen with wall-to-wall flashing LED lights. Other options play footage of a winding road, complete with wind effects. The popular 50-minute Holofit class is held in a futuristic studio with vibrant lights and interactive floors that mark where to plant your feet and hands as you do squats, jumps, planks, and burpees. And if the upbeat K-pop and techno tunes aren't enough to get your adrenaline pumping, the screens that flash participants' heart rates and burned calories—and rank the top three who worked the hardest—might stir your competitive instincts. The 24-hour gym also offers yoga, muay thai, and K-pop dance classes alongside Korean military-inspired boot camps. Memberships start at HK$500 ($63) a month.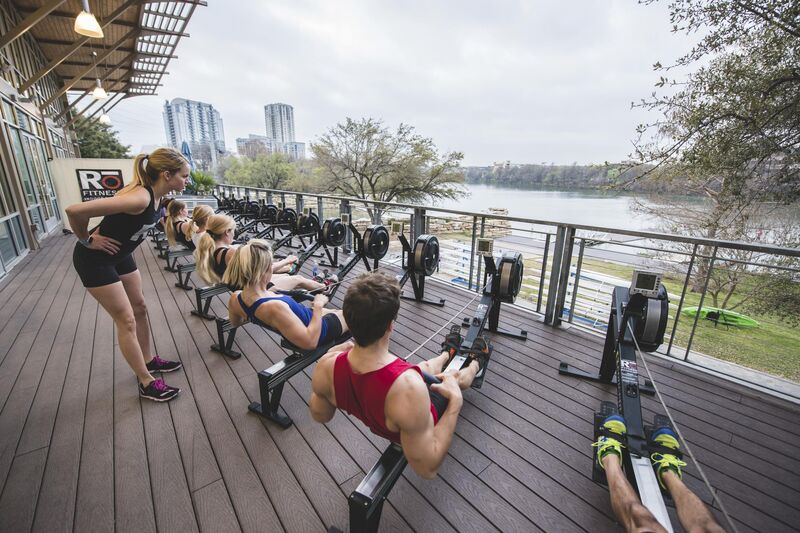 Go a-Rowing in Austin
In the heart of downtown Austin overlooking Lady Bird Lake is the Waller Creek Boathouse, where you'll find Rō Fitness. Co-founded by University of Oklahoma rower Chelsea Moore, the workout has addictive qualities that come from the setup: A monitor on the wall times and measures your distance so you're "racing against yourself," as Moore puts it. If the view doesn't seduce you (sunrise classes are held outside), the team mentality of rowing might. "There's a meditative quality to seeing all these bodies working together in the same motion," she says. "Though everyone is working on their own stroke, you still have to work together." Classes are $20 per session and $175 for a month, unlimited.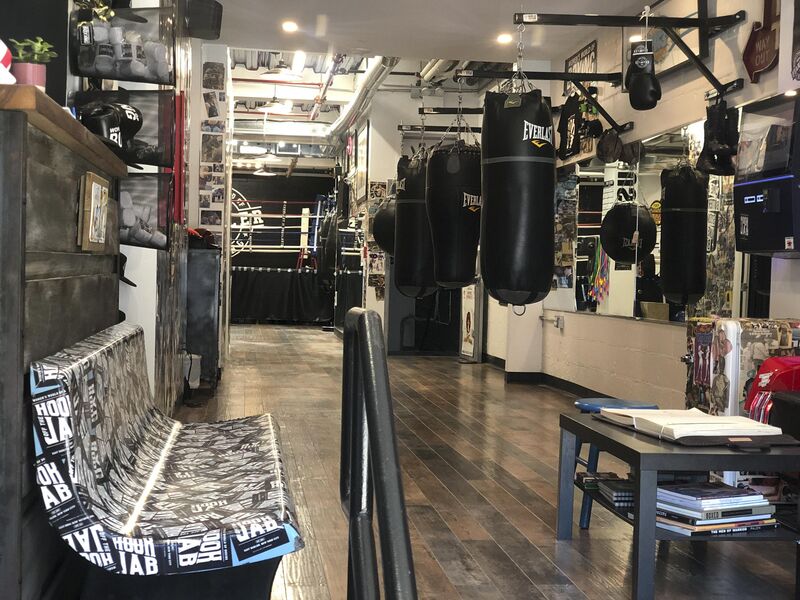 Get in the Ring in New York
When Reese Scott started boxing 15 years ago, "it was a lonely sport being the only woman in the gym," she says. So she finally opened Women's World of Boxing in January 2018, and it's quickly caught on among female Manhattanites. Part of the appeal lies in the positive motivation she provides during sessions, using her own life lessons to help people discover inner strength—"whether they want to fight in the ring or not." Classes are an hour long and capped at 14 students, and Scott approaches teaching like a karate instructor: A beginner's class is solely about fundamentals—balance, footwork, and maintaining a boxing stance. Kickboxing and yoga classes are also available. The popular TKO package is $250 a month and includes 16 group classes and a personal training session with Coach Reese.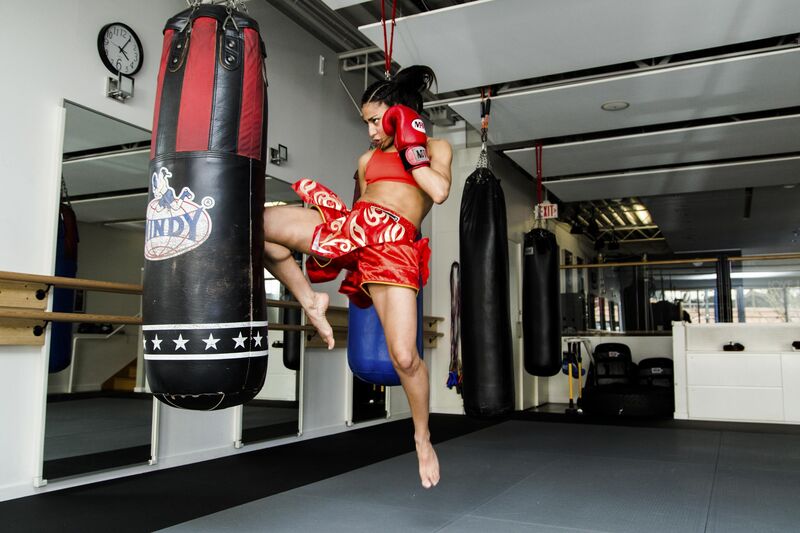 Master Muay Thai in Vancouver
Founded in 2016 by Ali Khanjari and Farinaz Lari, the first Iranian woman to win the World Kickboxing Championships, District Warrior offers workout-focused classes such as MuayHIIT, a new offering that teaches you how to kick butt and get in shape. Students wear a heart-rate monitor while large screens act as competition boards. The 45-minute class is organized into rounds—think three minutes on, as in a traditional fight round, with a minute of rest. This month, the studio is offering a diet challenge and working with a local meal-prep company. "Some people want to defend themselves," Lari says, "but our newest clients are here to get in shape." Unlimited classes run $300 a month.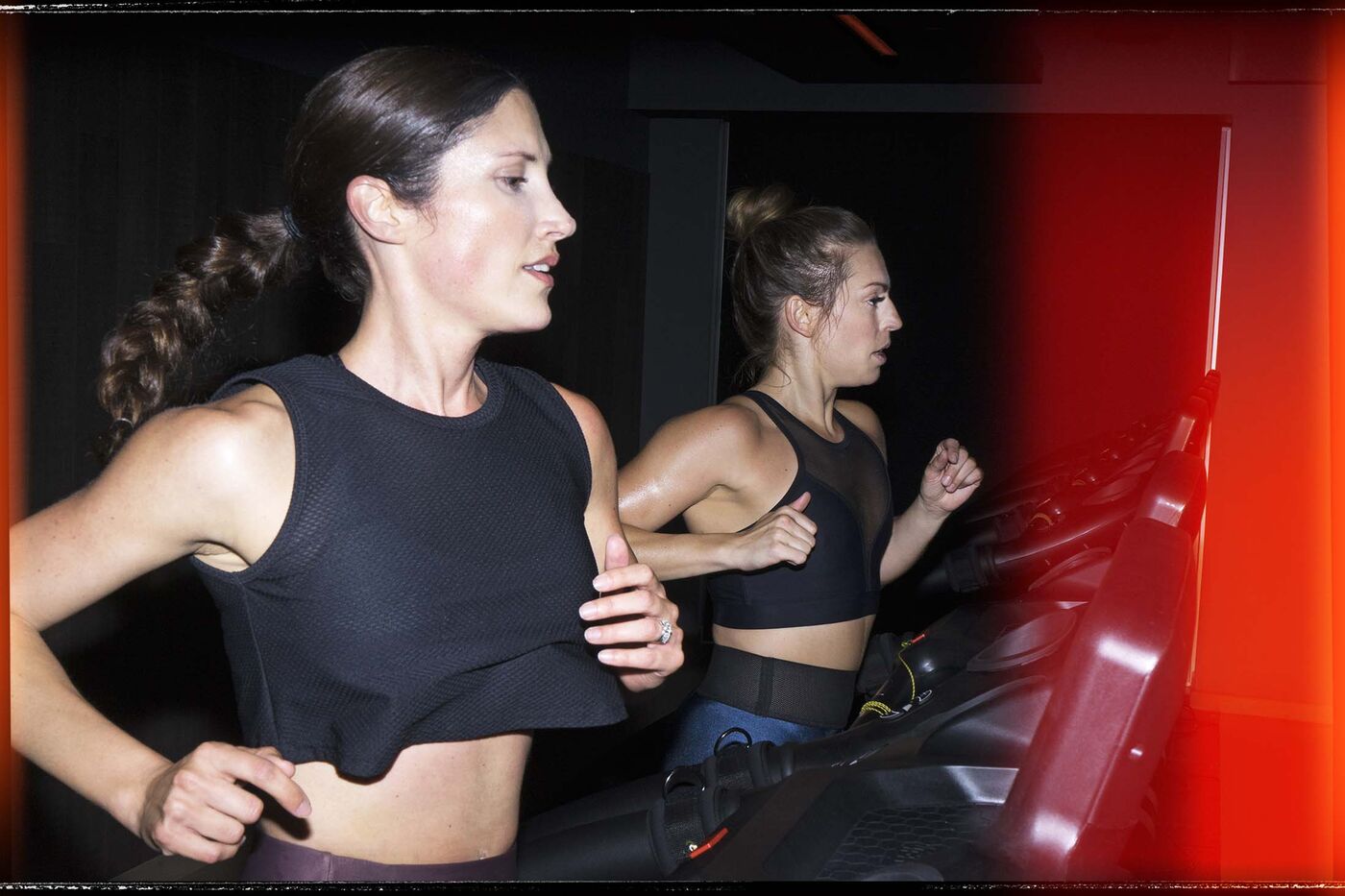 GO FOR HIGH-IMPACT …
An exercise class called Precision Run is the most popular workout at Equinox fitness clubs nationwide. So popular in fact, its more than 500 weekly sessions are always completely booked. Precision Run has become such a sensation that the company's Santa Monica and Chestnut Hill, Mass., locations began developing their own specialized rooms for the class, and this spring, will open a standalone studio in the Flatiron district of New York City. A Los Angeles location will follow. (Anyone can sign up; one class is $36.)
… OR LOW-IMPACT
If you want to feel as if you worked hard without actually looking as if you've worked hard, try Anne Mahlum's five-year-old Solidcore, a concept that's been described as "Pilates on steroids." The exercise is resistance-based and relies on slow movements practiced on the class's own version of the Megaformer machine, the Sweatlana, which can provide up to 400 pounds of weight. Each 50-minute class has 25 to 30 exercises developed from planks, lunges, and squats, as well as some upper-body workouts, all to target one's core, waistline, arms, and legs. Mahlum says among the community, "the authenticity is palpable," whether it's at one of her five locations in North Dakota or the Adams Morgan neighborhood in D.C. where she first opened. "Every person who works here started as a client," she says. "Now it's like this cool tribe of people." There are 41 locations around the country; she's aiming to have 68 by the end of the year. $195 for a five-class package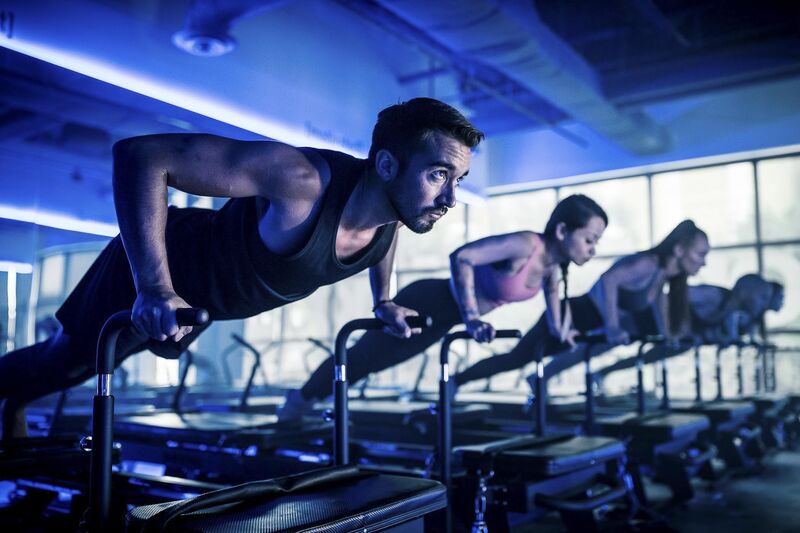 ["source=bloomberg"]